Would you like to have this page translated automatically? Then click on the link below to download data from the external Google Translate Server. Note: Personal data (e.g. your IP address) will be transmitted to this server. Google Translate now ...
Leben
Der Naturwissenschaftler, Photograph und Denkmalpfleger August Lorent wurde am 12. Dezember 1813 in Charleston (South Carolina) geboren.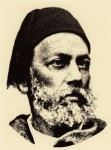 Im Alter von fast fünf Jahren siedelte er mit seinem Stiefvater und zwei Geschwistern aus den USA nach Mannheim über. Nach dem Besuch des dortigen Lyzeums nahm er mit 19 Jahren ein Studium der Chemie, Botanik und Zoologie an der Heidelberger Universität auf und promovierte dort vier Jahre später (De animalculis infusoriis. Diss. Universität Heidelberg. Mannheim: Hoff & Heuser 1837). Anschließend reiste er als Privatgelehrter 1838 durch Nordafrika und 1842/1843 in das "Morgenland", worüber er 1845 im Mannheimer Loeffler-Verlag publizierte (Wanderungen im Morgenlande während den Jahren 1842–1843.)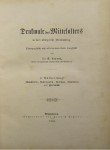 1850 heiratete Lorent in London Katharina Wachs und zog mit ihr 1851 von Mannheim nach Venedig, wo 1853 seine ersten datierten photographischen Aufnahmen entstanden. 1858 kehrte er nach Mannheim zurück, unternahm von dort aus aber bis 1865 mehrere lange Forschungsreisen. Sie führten ihn über Spanien und Algier nach Ägypten und Nubien, nach Griechenland, in die Türkei, nach Syrien und Palästina. In der zweiten Hälfte der 1860er Jahre schließlich entstanden seine Dokumentationen württembergischer und hessischer Baudenkmäler. 1873 siedelte Lorent nach Meran über. Auch hier nahm er zahlreiche Lichtbilder auf. 1884 starb er dort ohne Nachkommen.
August Lorent hinterließ nicht nur zahlreiche Photographien und Beschreibungen seiner Forschungsreisen rund um das Mittelmeer. Und nicht nur die fernen Monumente der Pharaonen weckten sein Interesse, sondern auch die Baudenkmäler des Mittelalters in der Heimat, in Hessen und in Württemberg. Von 1866 bis 1869 erschienen "photographisch mit erläuterndem Texte" seine "Denkmale des Mittelalters in dem Königreiche Württemberg".
Denkmalinventare
1866 I. Abt.: Maulbronn, Bebenhausen, Hirsau, Alpirsbach und Herrenalb.
1867 II. Abt.: Lorch, Murrhardt, Rieden, Oberhofen, Comburg, Faurndau und Oberstenfeld.
1869 III. Abt.: Ellwangen, Blaubeuren, Denkendorf, Schwäbisch Gmünd und Brenz.
Nach Abschluss dieser ersten württembergischen Denkmal-Inventare veröffentlichte Lorent 1870 die Monographie über die damals hessische Stadt Wimpfen am Neckar. Auch die von ihm dokumentierten Denkmäler in Münzenberg und Gelnhausen zählten zum Großherzogtum Hessen-Darmstadt.
Chronologie
| | |
| --- | --- |
| 12. 12. 1813 | Geburt in Charleston, South Carolina/USA |
| 1818 | Übersiedlung von Amerika nach Mannheim |
| 1827–1829 | Lyzeum in Mannheim |
| 1833 | Mitbegründer des Mannheimer Vereins für Naturkunde |
| 1833-1837 | Studium der Chemie, Zoologie und Botanik an der Universität Heidelberg, Promotion |
| 1842/1843 | Reisen als Privatgelehrter durch Ägypten und Kleinasien/td> |
| 1844 | Mitglied des Mannheimer Kunstvereins und zweite Reise nach Ägypten |
| 1850 | Heirat mit Katharina »Kathinka« Wachs aus Kassel |
| 1851 | Umzug nach Venedig |
| 1854 | Reise mit seiner Frau nach Meran |
| 1858 | Übersiedlung nach Mannheim |
| 1859–1861 | Reisen nach Ägypten, Nubien und Griechenland |
| 1862 | Erneute Reise nach Griechenland |
| 1863 | Aufenthalt am Großherzoglichen Hof auf der Insel Mainau, Reisen in die Türkei, nach Syrien und Ägypten |
| 1864 | Reise nach Palästina und Ägypten |
| 1865 | Reise nach Sizilien |
| 1873 | Übersiedlung nach Meran |
| 1879 | Tod von Katharina Lorent |
| 09.07.1884 | Tod in Meran |