Would you like to have this page translated automatically? Then click on the link below to download data from the external Google Translate Server. Note: Personal data (e.g. your IP address) will be transmitted to this server. Google Translate now ...
August Lorent – Photograph und Denkmalpfleger
Eine gemeinsame Ausstellung des saai | Südwestdeutsches Archiv für Architektur und Ingenieurbau und der KIT-Bibliothek.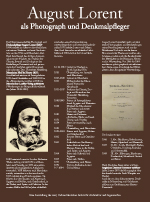 Ein bedeutender Pionier der Photographie war August Lorent. Vor 200 Jahren geboren zog er im Alter von fast fünf Jahren mit seinen Stiefeltern und zwei Geschwistern von den USA nach Mannheim. Mit 19 Jahren nahm er ein Studium der Chemie, Botanik und Zoologie an der Heidelberger Universität auf, um seinem Vorbild Alexander von Humboldt nachzueifern.
Nach der Promotion reiste Lorent als Privatgelehrter 1838 durch Nordafrika und 1842/1843 in das »Morgenland«. 1850 heiratete er in London Katharina Wachs und zog mit ihr im darauffolgenden Jahr von Mannheim nach Venedig. Dort entstanden 1853 seine ersten datierten photographischen Aufnahmen. 1858 kehrte er nach Mannheim zurück und unternahm von dort aus bis 1865 mehrere lange Forschungsreisen. Sie führten ihn über Spanien und Algier nach Ägypten und Nubien, nach Griechenland, in die Türkei, nach Syrien und Palästina. In der zweiten Hälfte der 1860er Jahre schließlich entstanden seine Dokumentationen württembergischer und hessischer Baudenkmäler.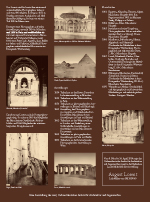 Seine Photographien zeigte Lorent auf vielen Ausstellungen, erstmals 1854 in München und 1855 auf der Pariser Weltausstellung, und veröffentlichte sie mit meist eigenen Kommentaren. Daneben war er auch als Portrait-Photograph tätig. So lichtete er 1863 die Mitglieder der Mannheimer Herrengesellschaft »Räuberhöhle« und 1866 Mitglieder des württembergischen Königshauses ab. 1873 siedelte Lorent nach Meran über. Auch dort nahm er zahlreiche Lichtbilder auf. 1884 starb er ohne Nachkommen.
Eine Auswahl der von Lorent dokumentierten württembergischen und hessischen Baudenkmäler aus dem Bestand der KIT-Bibliothek zeigen wir in der Ausstellung »Augut Lorent – Photograph und Denkmalpfleger« im Foyer der Bibliothek.