Would you like to have this page translated automatically? Then click on the link below to download data from the external Google Translate Server. Note: Personal data (e.g. your IP address) will be transmitted to this server. Google Translate now ...
Ausstellung Enzyklopädien. Erzählen. Wissen.
Eine gemeinsame Ausstellung des Instituts für Germanistik, Abteilung Germanistische Mediävistik und Früheuzeitforschung und der KIT-Bibliothek. Ab 7. Dezember im Foyer der KIT-Bibliothek Süd.

sprungmarken_marker_2370
Über die Ausstellung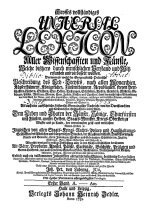 Seit es Bücher gibt, dienen sie als Speicher für Wissen und Geschichten. Bereits in der Antike gab es nicht nur Bestrebungen, das Wissen der Menschheit in Enzyklopädien wie auch deren Mythen und Erzählungen schriftlich festzuhalten, sondern auch Unternehmungen wie die Bibliothek im ägyptischen Alexandria, die nach dem Willen des Königs Ptolemaios II. von jedem Buch der Welt eine Abschrift aufbewahren sollte.
Seit dem Mittelalter entstehen Werke, die beide Bereiche verbinden und enzyklopädisches Wissen in große Erzählungen integrieren oder Wissen erzählerisch aufbereiten. Dieses Feld wird am Institut für Germanistik, Abteilung Germanistische Mediävistik und Frühneuzeitforschung schwerpunktmäßig erforscht. Die Ausstellung zeigt Bücher aus beiden Bereichen, an denen auch der fließende Übergang zwischen reinem Wissensspeicher und erzählerischer Verarbeitung studiert werden kann.
Besuch der Ausstellung
Die Ausstellung steht der interessierten Öffentlichkeit kostenlos während der Servicezeiten (Montag-Freitag 9-19 Uhr, Samstag 9-12.30 Uhr) offen; Personen mit einem gültigen Bibliotheksausweis können die Ausstellung rund um die Uhr besichtigen.
Kontakt und weiterführende Informationen