Would you like to have this page translated automatically? Then click on the link below to download data from the external Google Translate Server. Note: Personal data (e.g. your IP address) will be transmitted to this server. Google Translate now ...
Eröffnungsrede von Karl Weltzien beim Internationalen Chemikerkongress am 03.09.1860
Vom 3. bis 5. September 1860 fand im Ständehaussaal in Karlsruhe eine Versammlung von Chemikern aus Deutschland, Europa und Übersee statt - die erste internationale Fachtagung für Chemie weltweit.
Meine Herren!
Als provisorischer Geschäftsführer habe ich die Ehre eine Versammlung zu eröffnen, wie eine derartige zuvor wohl nie getagt hat. Zwar traten seit 1822 fast jährlich auf Oken's Anregung nach dem Vorbilde schweizerischer Versammlungen die deutschen Naturforscher und Ärzte in den verschiedenen Städten ihres Vaterlandes zu wissenschaftlichem Verkehr zusammen; es fanden diese Versammlungen Nachahmung in England, Frankreich, und noch in den letzten Jahren vereinigten sich auch die skandinavischen Naturforscher zu ähnlichen Zusammenkünften.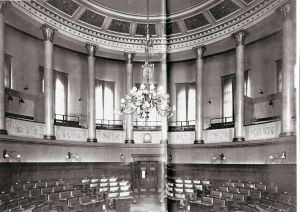 Es sind dieses aber immer Männer, welche zwar den verschiedenen Teilen der Naturwissenschaften und der Medizin ihre Kräfte zuwenden, welche aber stets denselben Nationalitäten angehören. Die wissenschaftliche Beschäftigung in diesen Versammlungen ist hauptsächlich durch Vorträge bezeichnet, welche über eigene Arbeiten nach freier Wahl jedes Einzelnen gehalten werden, deren Gegenstand an kein voraus festgestelltes Programm gebunden ist. Ein reger, freundschaftlicher Verkehr, gewürzt durch eine Reihe von Festen, vereinigt eine Anzahl von Tagen die stamm - und sprachverwandten Naturforscher und Ärzte. Nicht so unsere heutige Versammlung. Zum ersten Male sind hier die Vertreter einer einzigen Naturwissenschaft, und zwar der jüngsten, versammelt; diese Vertreter gehören aber fast allen Nationalitäten an. Wir sind verschiedenen Stammes und sprechen verschiedene Sprachen, aber wir sind fachverwandt, uns verbindet ein wissenschaftliches Interesse, uns vereinigt dieselbe Absicht.
Wir sind versammelt zu dem bestimmten Zwecke, den Versuch zu machen, in gewissen, für unsere schöne Wissenschaft wichtigen Punkten eine Einigung anzubahnen. Bei der außerordentlich raschen Entwicklung der Chemie, besonders bei der massenhaften Ansammlung des tatsächlichen Materials, sind die theoretischen Ansichten der Forscher und die Ausdrücke in Wort und Symbol weiter auseinander gegangen, als zur gegenseitigen Verständigung zweckmäßig und besonders für das Lehren ersprießlich ist. Und doch bei der Wichtigkeit der Chemie für die übrigen Naturwissenschaften, bei der Unentbehrlichkeit derselben für die Technik muss es im höchsten Grade wünschenswert und geboten erscheinen, ihr eine exaktere Form zu geben, damit es möglich werde, dieselbe in verhältnismäßig kurzer Zeit wissenschaftlich zu lehren. Um dies zu erlangen, sollten wir nicht gezwungen sein, verschiedene Ansichten und Schreibweisen, wobei die Verschiedenheiten wenig Wesentlichkeiten bieten, vorzutragen, nicht mit einer Nomenklatur belastet sein, welcher bei einer Masse von unnötigen Symbolen meist alle rationelle Basis abgeht und die zur Vermehrung des Übelstandes sich meist von einer Theorie ableitet, welche jetzt kaum mehr Gültigkeit besitzt. Die zahlreiche Beteiligung an der Versammlung ist wohl ein deutliches Zeichen, dass diese Missstände allseitig erkannt sind und eine Beseitigung derselben im Wege der Einigung im höchsten Grade wünschenswert erscheint. Die Erreichung dieses Zieles ist ein so schöner Preis, dass es wohl der Mühe wert ist, den Versuch hierzu zu machen. Den ersten Gedanken zu einem Chemiker-Congresse sprach unser College Kekulé schon vor längerer Zeit gegen mich aus. In diesem Frühjahr tat ich die ersten Schritte zu seiner Verwirklichung. Das Zeitgemäße des Unternehmens wurde vielfach anerkannt, allerseits fand ich zuvorkommende Unterstützung, so dass ich nicht zweifle, diese Versammlung wird berufen sein, in der Geschichte unserer Wissenschaft einen nicht unwichtigen Zeitabschnitt zu begründen.
Die Stadt Carlsruhe, welcher vor zwei Jahren das Glück zu Teil wurde, eine der glänzendsten Versammlungen der deutschen Naturforscher und Ärzte zu beherbergen, hat jetzt die Ehre, die erste internationale Chemiker-Versammlung in ihren Mauern vereinigt zu sehen. Carlsruhe ist die Hauptstadt eines zwar kleinen, aber gesegneten Landes, in welchem unter einem erhabenen Fürsten, einer liberalen Regierung Wissenschaften und Künste blühen und ihre Vertreter, geachtet und unterstützt, mit Freudigkeit und Liebe ihrem Berufe folgen können. Indem ich Sie in dieser Stadt herzlich willkommen heiße, zweifle ich nicht, dass dieselbe Freudigkeit auch unsere Versammlungen durchdringen und hoffe, dass die Wissenschaft mit Befriedigung einst auf die Versammlung zurückblicken werde.
Quelle: Anschütz, Richard: August Kekulé. Bd. 1: Leben und Wirken. Berlin : Verl. Chemie, 1929, S. 674-675.
Bildnachweis: Ständehaussaal Karlsruhe. Aus: Das badische Ständehaus in Karlsruhe, Karlsruhe : Info-Verl., 1988. - S. 16/17