Would you like to have this page translated automatically? Then click on the link below to download data from the external Google Translate Server. Note: Personal data (e.g. your IP address) will be transmitted to this server. Google Translate now ...
Ausstellung 10 Jahre KIT Scientific Publishing
10 Jahre ist es her, dass das Rektorat der damaligen Universität den Universitätsverlag Karlsruhe ins Leben rief. Anlässlich dieses Jubiläums findet im Foyer der KIT-Bibliothek Süd eine Ausstellung statt.

Über die Ausstellung
Die Ausstellung "10 Jahre KIT Scientific Publishing" infomiert über Konzept und Geschichte des Karlsruher Wissenschaftsverlags. Eine Chronologie widmet sich den Meilensteinen der Verlagsgeschichte; statistische Daten und Fakten sowie eine Ausstellung von repräsentatiativen Buchprojekten aus 10 Jahren Verlagsgeschichte runden das Bild ab.
Über den Verlag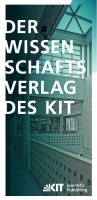 2004 wurde vom Rektorat der damaligen Universität Karlsruhe der Universitätsverlag Karlsruhe ins Leben gerufen.

Unter den Befürwortern der Gründung war auch die Universitätsbibliothek, ein Argument mehr, den jungen Verlag dort anzusiedeln: aufbauend auf den sonstigen Publikationsaktivitäten sollte eine zeitgemäße Plattform für die Veröffentlichung qualitätsgeprüfter universitätseigener Schriften das Angebot der Bibliothek abrunden und ergänzen.
Von Anfang an folgte das Verlagskonzept dem Open Access-Gedanken: Das gesamte Sortiment wird sowohl in gedruckter Form über den Buchhandel verkauft, als auch elektronisch kostenlos im Internet publiziert.

Ausführliche Informationen
Seit damals hat sich viel getan: Der Verlag, der im Gründungsjahr mit der Veröffentlichung "NUKATH - Die Notebook-Universität Karlsruhe (TH)" einer größeren Öffentlichkeit bekannt wurde, hat sich zwischenzeitlich KIT-weit als Plattform für wissenschaftliches Publizieren fest etabliert. Bis heute wurden über 1300 Monographien, Lehrbücher und Tagungsbände veröffentlicht. 68 Schriftenreihen, die in enger Zusammenarbeit mit Instituten des KIT verlegt werden, sind ein beeindruckendes Zeugnis der Erfolgsgeschichte.
Dabei haben sich nicht nur die kurzen Wege als Vorteil erwiesen. Der Verlag wahrt – ganz im Sinne seiner wissenschaftspolitischen Leitlinien – in besonderem Maße die Rechte der Autoren: diese verbleiben vollständig bei den Urhebern. Zugleich erfüllt der Verlag seine Aufgaben bei der Verbreitung und Vermarktung Karlsruher Forschungsergebnisse auf verschiedenen elektronischen und konventionellen Vertriebsplattformen im Buchhandel und Internet.
Im Jahr 2009 fusionierte der Universitätsverlag im Zuge der KIT-Gründung mit den Verlagsaktivitäten des damaligen Forschungszentrums. Unter dem Namen KIT Scientific Publishing steht der Verlag seitdem allen Wissenschaftlerinnen und Wissenschaftlern des KIT zur Verfügung. Das beständig hohe Auftragsvolumen der letzten Jahre konnte nur durch Aufstockung des Personals, den Einsatz moderner Informationstechnik und die Nutzung von Synergieeffekten bewältigt werden.
Neben dem verlegerischen Alltagsgeschäft bringt KIT Scientific Publishing sein Know-how und seine Expertise in deutschen und europäischen Organisationen und Kooperationen sein. Ob in der Arbeitsgemeinschaft der Universitätsverlage, der europäischen Initiative AEUP – Association of European University Presses, sei es OAPEN (Open Access Publishing in European Networks) oder DOAB (Directory of Open Access Books)- der Karlsruhe Verlag ist ein gefragter und beachteter Partner.
Das jüngste Verlagsprodukt stellt den Autor in den Mittelpunkt: Die neue Plattform KIT Scientific People erweitert die traditionellen Verlagsservices und bietet Autorinnen und Autoren die Möglichkeit, noch auf ganz anderem Weg als bisher über die eigene Forschungsarbeit, ihr Entstehen und ihre Motivation zu sprechen: Institute und Forschende können sich in Text, Bild und kurzen Videoclips der breiten Öffentlichkeit präsentieren und zum Diskurs einladen.
Kontakt und weiterführende Informationen