Would you like to have this page translated automatically? Then click on the link below to download data from the external Google Translate Server. Note: Personal data (e.g. your IP address) will be transmitted to this server. Google Translate now ...
Ausstellung 175 Jahre KIT-Bibliothek
Ab dem 8. Dezember 2015 können sich Interessierte in einer kleinen Ausstellung über die 175jährige Geschichte der KIT-Bibliothek und ihrer Vorgängerinstitutionen informieren.

sprungmarken_marker_3360
Allgemeines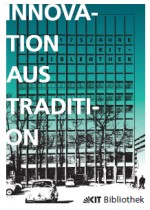 Am 20. Oktober 1840 wurde die damalige Großherzogliche Badische Polytechnische Schule zu Karlsruhe durch ein Schreiben des zuständigen Ministeriums aufgefordert, eine ordentliche Bibliothek einzurichten. Aus dieser ging die Universitätsbibliothek hervor, die 2009 mit der Literaturabteilung des Forschungszentrums zur KIT-Bibliothek fusionierte.
Aus diesem Anlass wurde im Foyer der KIT-Bibliothek Süd eine Ausstellung zusammengestellt, die Exponate aus der Geschichte der beiden Bibliotheken zeigt.
Die Ausstellung steht der interessierten Öffentlichkeit kostenlos während der Servicezeiten (Montag-Freitag 9-19 Uhr, Samstag 9-12.30 Uhr) offen; Personen mit einem gültigen Bibliotheksausweis können die Ausstellung rund um die Uhr besichtigen.
Festschrift
Anlässlich des Jubiläums ist in KIT Scientific Publishing, dem Verlag des KIT, eine Festschrift unter dem Titel Innovation aus Tradition : 175 Jahre KIT-Bibliothek erschienen. Das von Frank Scholze, dem Direktor der KIT-Bibliothek, herausgebene Buch kann direkt bei KIT Scientific Publishing oder im Buchhandel bestellt werden. Der Preis beträgt 29,00 EUR. Eine kostenlose PDF-Ausgabe steht bei KIT Scientific Publishing zum Download bereit.
Kontakt und weiterführende Informationen