Would you like to have this page translated automatically? Then click on the link below to download data from the external Google Translate Server. Note: Personal data (e.g. your IP address) will be transmitted to this server. Google Translate now ...
Vorlesungsaufzeichnung - Workflow und Beratung
Die Akteure im KIT haben auf Basis von OpenCast eine mehrstufige E-Lehre-Infrastruktur geschaffen. Diese ermöglicht sowohl das Nachnutzen von Vorlesungsaufzeichnungen in ILIIAS wie auch die KIT-interne oder weltweite Publikation auf Basis von KITopen.

Service
Über den Service "Opencast-Aufzeichnungsverwaltung (OC-AV)" – hervorgegangen aus einem Gemeinschaftsprojekt von Bibliothek, ZML, SCC und ASERV - können Lehrende am KIT ihre Lehrveranstaltungen planen, aufzeichnen, herunterladen und nachnutzbar machen.
Über OC-AV kann eine automatische Aufzeichnung für eine Vorlesung aktiviert und mit wenigen Klicks im ILIAS-Kurs zugänglich gemacht werden. Neue Aufzeichnungen innerhalb dieser Vorlesungsserie werden automatisch hinzugefügt.
Nicht automatisierte Aufzeichnungen (Selbstaufzeichnungen) können Sie wie gewohnt im ILIAS-Kurs hochladen und anschließend in OC-AV verwalten. Dadurch stehen Ihnen weitreichende Funktionalitäten wie Optimierung der Videoqualität, Generieren von Embed-Codes und einfache Weitergabe an weitere Bereitstellungkanäle zur Verfügung.
Jetzt in die OpenCast Aufzeichnungsverwaltung OC-AV einloggen
Workflow
In dieser Grafik erhalten Lehrende einen Überblick zum Gesamtprozess.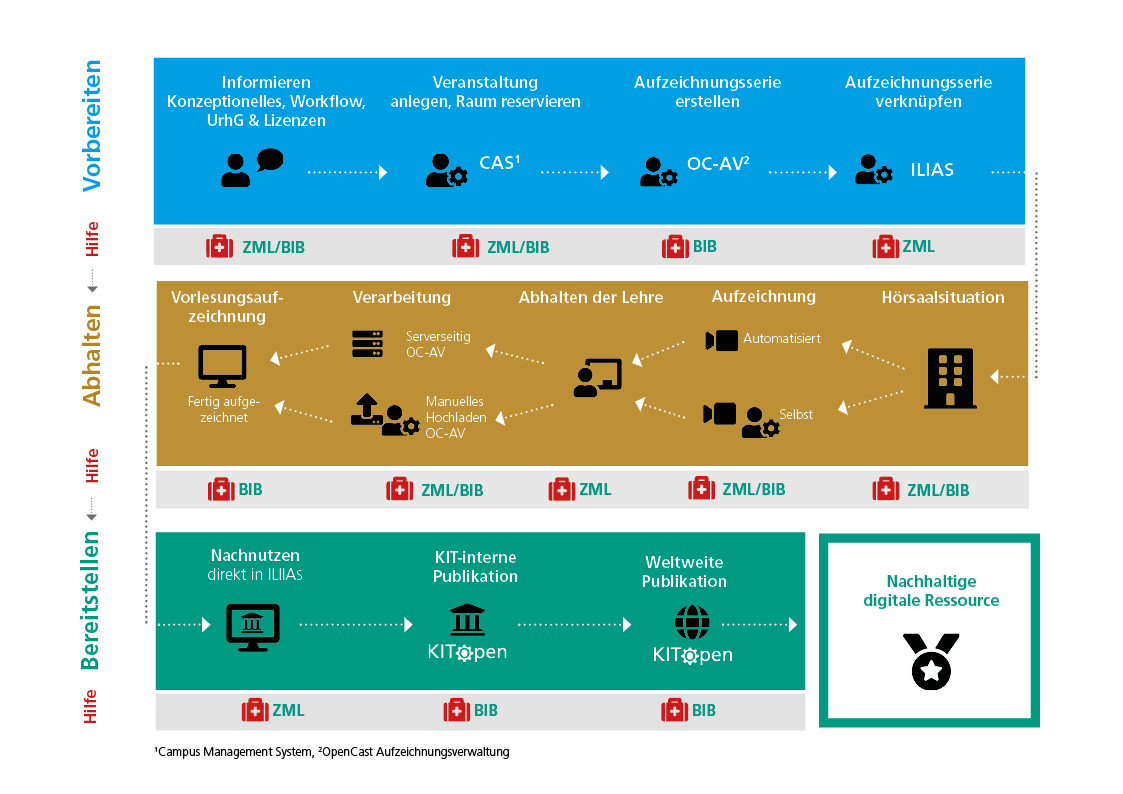 Beratung und Support für Dozierende
Wir empfehlen, für die digitale Lehre vorab ein Beratungsgespräch durchzuführen, um eine bestmögliche Aufbereitung und Verbreitung Ihrer Lehre zu erhalten.
Die Akteure im KIT haben sich dabei für ein mehrstufiges E-Lehre-Paket untereinander abgestimmt. Wir empfehlen Ihnen, alle Aspekte des Beratungsangebots anzunehmen.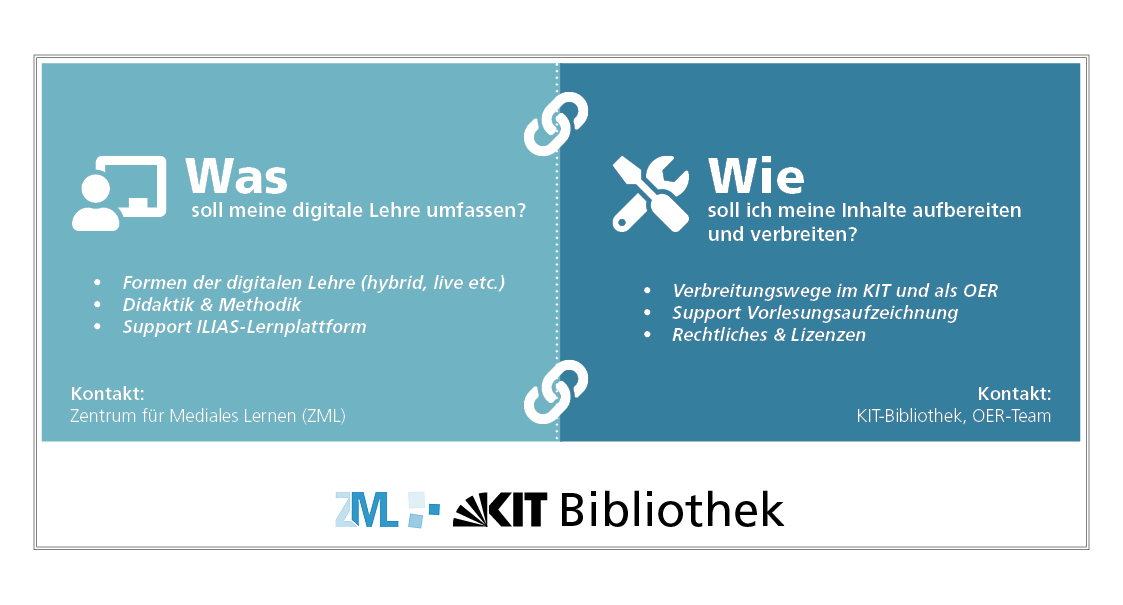 Auf den Projektseiten des ZML finden Lehrende:
ausführliche Anleitungen zur einfachen Integration der Videos in den aktuellen ILIAS-Kurs,
vielfältige Anwendungsbeispiele und Hinweise um Aufzeichnungen, ganz oder auch nur in Teilen, in mehreren eigenen Kursen zu nutzen oder diese mit interaktiven Elementen anzureichern, sowie
verschiedener Informationen und Anleitungen zum Erstellen professioneller Selbstaufzeichnungen
Das Team von KITopen bietet Ihnen:
Unterstützung bei Problemen im Ablauf der automatisierten Aufzeichnungen,
Informationen und Beratung zu den geltenden Rechtsgrundlagen (Welche Materialien darf ich verwenden? Welche Urheberrechtlichen Schranken gelten bei meiner Lehre?) sowie
ausführliche Hilfestellung bei der Publikation