Would you like to have this page translated automatically? Then click on the link below to download data from the external Google Translate Server. Note: Personal data (e.g. your IP address) will be transmitted to this server. Google Translate now ...
sprungmarken_marker_2929
Kurzbiographie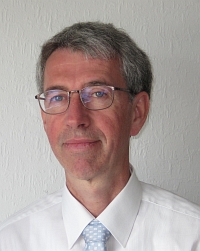 Michael Mönnich leitet die Abtlg. Benutzung der KIT-Bibliothek und ist stellvertretender Direktor. Seit 1991 an der KIT-Bibliothek beschäftigt, hatte er hier verschiedene Positionen inne, u. a. Leiter der Abtlg. für das Bibliothekssystem und der Medienbearbeitung. Er ist Mitglied der gemeinsamen Baukommission des dbv und VDB und der LIBER Architecture Group (LAG).
Nach dem Studium der Chemie, Pharmazie und der Promotion in der Geschichte der Pharmazie 1989 an der Universität Heidelberg absolvierte er das Referendariat für den höheren Bibliotheksdienst in Karlsruhe und der FHBD (heute Institut für Informationswissenschaft) in Köln.
Michael Mönnich lehrt "Geschichte der Chemie" am KIT und "Geschichte der Naturwissenschaften unter besonderer Berücksichtigung der Pharmazie" als Honorarprofessor der Universität Tübingen.
Er ist Vorsitzender des wissenschaftlichen Beirates des Vereins Deutsche Pharmazeutische Zentralbibliothek in Stuttgart, Bibliotheksbeauftragter und Vorsitzender der Landesgruppe Baden der Deutschen Gesellschaft für Geschichte der Pharmazie und Mitglied der Académie Internationale d'Histoire de la Pharmacie (AIHP). Zudem leitet er die Redaktion der internationalen "Pharmaziehistorischen Bibliographie (PhB)" und ist im Redaktionsbeirat der Zeitschrift "Geschichte der Pharmazie".
Lehrveranstaltungen
Lehrveranstaltungen am KIT: Die Vorlesung "Geschichte der Chemie" beginnt am 16.10. um 17.30 Uhr im Hörsaal I im Chemiegebäude 30.41.