Would you like to have this page translated automatically? Then click on the link below to download data from the external Google Translate Server. Note: Personal data (e.g. your IP address) will be transmitted to this server. Google Translate now ...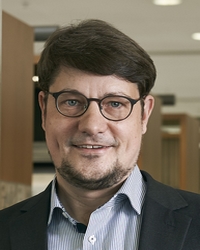 Dr. Arne Upmeier
Straße am Forum 2, 76131 Karlsruhe
Curriculum Vitae
Dr. Arne Upmeier ist seit Mai 2020 Direktor der Bibliothek des Karlsruher Instituts für Technologie (KIT). Zuvor war er stellvertretender Direktor und Leiter der Benutzungsabteilung der Universitätsbibliothek der TU Ilmenau.
Neben seinem Amt als Ethikbeauftragter des Deutschen Bibliotheksverbands ist er Mitglied mehrerer nationaler und internationaler Gremien, u.a. der AG Digitale Bibliotheken im Deutschen Literaturrat, der deutsch-französische Kommission zur Digitalisierung urheberrechtlich geschützter Werke sowie der Arbeitsgruppe "Recht für Wissenschaft im digitalen Zeitalter" der Allianz der Wissenschaftsorganisationen. Er ist Vertreter der deutschen Bibliotheken im Ausschuss für Urheberrecht im Deutschen Kulturrat und berät den Deutschen Bibliotheksverband regelmäßig in Rechtsfragen.
Dr. Arne Upmeier wurde 1972 geboren. Er studierte Rechtswissenschaften und Philosophie an den Universitäten in Freiburg, Lund (Schweden) und Münster. Er promovierte an der TU Berlin zu einem rechtsphilosophischen Thema. Er war Mitarbeiter am Lehrstuhl für Rechtsphilosophie in Hannover, sein Bibliotheksreferendariat absolvierte er an der Universität Gießen, das Bibliotheksstudium an der Humboldt-Universität Berlin. Arne Upmeier ist verheiratet, hat drei schulpflichtige Kinder und ist aktiv im Rotary Club.