Would you like to have this page translated automatically? Then click on the link below to download data from the external Google Translate Server. Note: Personal data (e.g. your IP address) will be transmitted to this server. Google Translate now ...
sprungmarken_marker_3388
Relaunch der KIT-Bibliothekswebsite
Üblicherweise macht der Mai alles neu - dieses Jahr ist es der Juli. "Neu" ist nämlich seit heute die Website der KIT-Bibliothek. Nach einer umfassenden Umstrukturierung 2016 wurde sie jetzt im Rahmen des allgemeinen Web-Relaunchs des KIT überarbeitet und online geschaltet.
Layout
Die Website präsentiert sich jetzt in einem neuen, zeitgemäßen Layout. Mit der umfassenden Bebilderung der Seiten, der Verwendung einer neuen Schrift (Roboto) und einer großflächigeren Darstellung der Inhalte entspricht sie jetzt aktuellen Gestaltungstrends.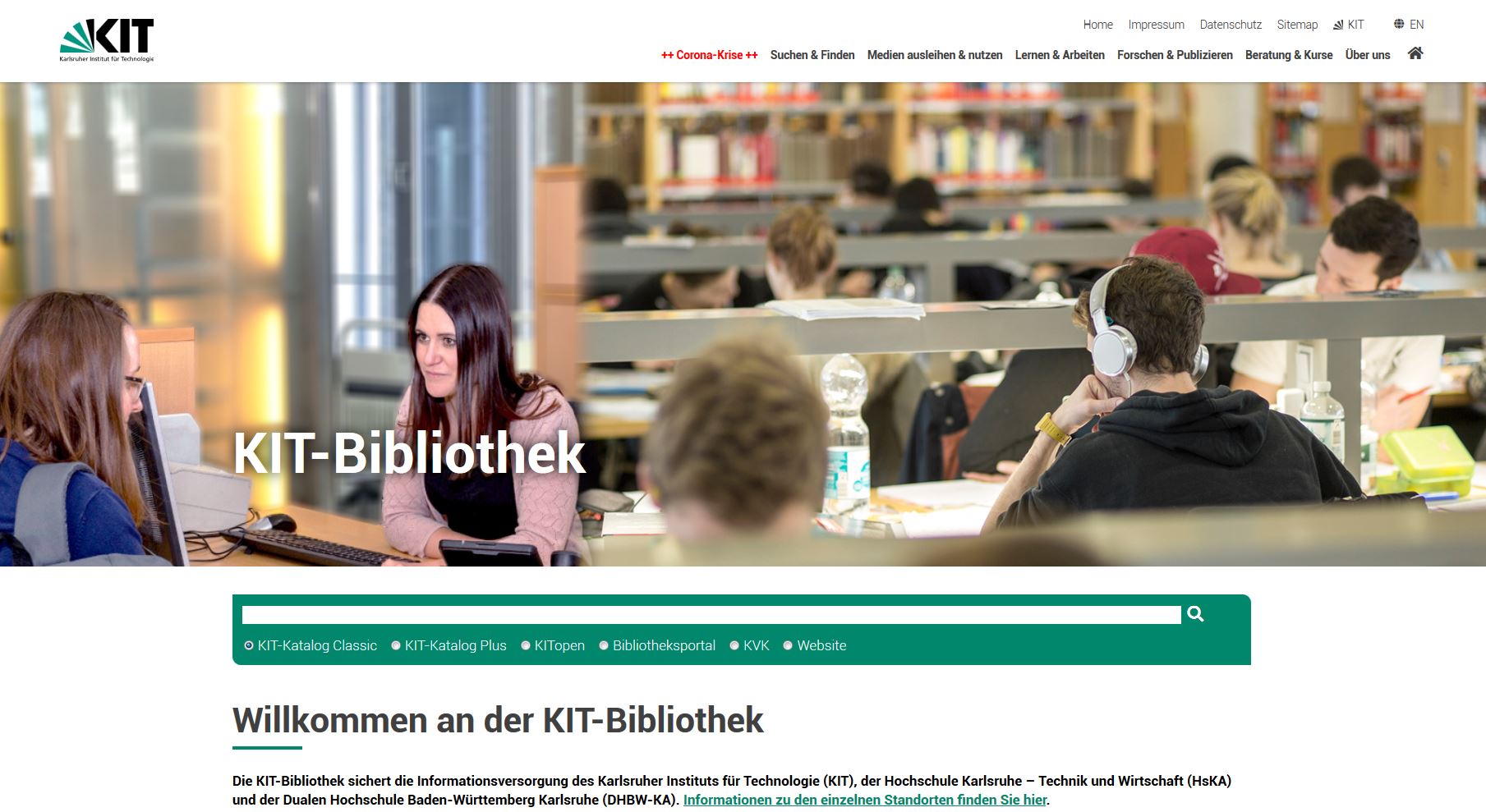 Responsivität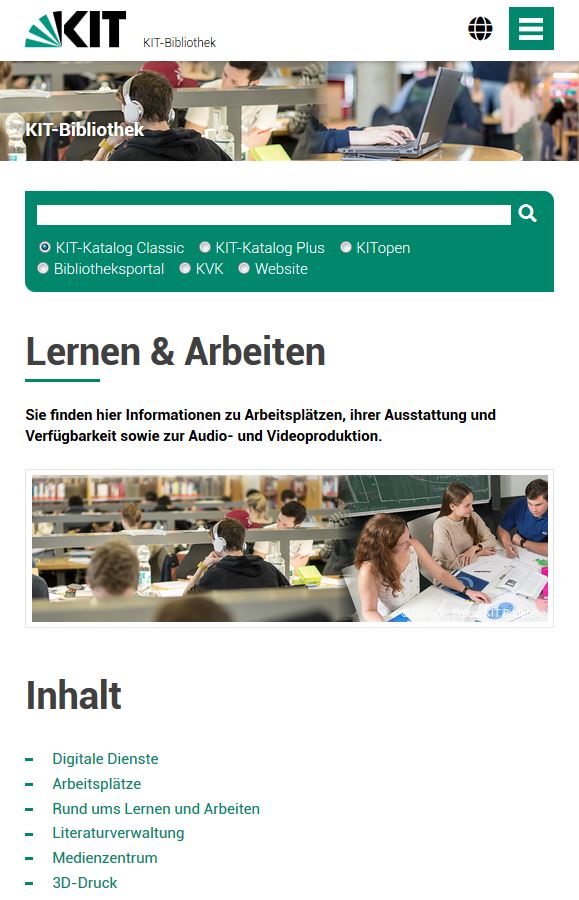 Der neue Webauftritt des KIT wurde technisch so gestaltet, dass die Webseiten auf allen gängigen Endgeräten optimal angezeigt werden. Das Layout ist "responsive". Das bedeutet, Layout und Inhalte (Texte und Bilder) passen sich automatisch an unterschiedliche Bildschirmgrößen an. Ab einer gewissen Mindestgröße wird so z.B. das Navigationsmenü als sogenanntes Hamburger"-Menü dargestellt. Egal ob Nutzer auf dem Smartphone oder am Desktop-Bildschirm unterwegs sind, die Webseite wird immer in einem einheitlichen Layout angezeigt.
Inhalt
Die Inhalte der Website und die Zuordnung zu den Navigationsbereichen wurden wo notwendig angepasst. Der allgemeine Schnelleinstieg auf der Startseite wurde um zielgruppenspezifische Schnelleinstiege für Erstsemester und Forschende erweitert.

Im Fußbereich jeder Seite findet man jetzt den von der Startseite bekannten Schnelleinstieg mit Links zu häufig benötigen Informations- und Serviceseiten. Ansprechpartner werden ebenfalls im Fußbereich aufgelistet und sind so schnell erreichbar.
Den Suchschlitz, der u.a. die Suche in verschiedenen Bibliothekskatalogen ermöglicht, finden Sie nach wie vor zentral im oberen Bereich jeder Seite.

Navigation
Im Gegensatz zur alten Website verfügt die neue jetzt über eine horizontale Hauptnavigation. Menüpunkte der 1. Ebene werden immer im Seitenkopf angezeigt. Die Menüleiste mit KIT-Logo bleibt beim Scrollen auf der Seite im Seitenkopf fixiert.

Die weiteren Navigationsebenen sind als Drop-down-Menü umgesetzt, d. h. die Menüpunkte klappen nach unten auf, wenn Sie mit dem Cursor Menüpunkte der 1. Ebene berühren. Damit wird Überblick über die Menüpunkte erleichtert und so der Zugang zu den Inhalten verbessert.
Diesem Ziel dient auch die neu eingeführte Breadcrumb-Navigation, ein Linkpfad unterhalb des Kopfbilds, der eine optimale Orientierung innerhalb der Website bietet und die Rückwärts-Navigation vereinfacht.

Wir freuen uns, dass wir mit unserer neuen Webseite online sind und wir hoffen, dass es sich gelohnt hat. Es wäre schön, wenn die neuen Features Ihnen den Zugang zu den Services und zum Informationsangebot der KIT-Bibliothek erleichtern und damit ihren Teil dazu beitragen, Sie bei Studium, Forschung und Lehre zu unterstützen.
Stellenausschreibung der KIT-Bibliothek: Bibliothekarin / Bibliothekar (w/m/d), Vollzeit, für die Abteilung Publikations- und Mediendienste gesucht
Tätigkeitsbeschreibung
Die KIT-Bibliothek betreibt vielfältige Open-Access-Services im Bereich von Text-, Forschungsdaten- und AV-Materialien und verantwortet den zentralen Nachweis von Forschungsinformationen des KIT.
Sie arbeiten im Open-Access-Team schwerpunktmäßig im Bereich des Repositorys KITopen, das Teil eines modularen Forschungsinformationssystems am KIT ist. Neben der Datenerfassung und –pflege stehen daher Beratungstätigkeiten für Forschende beim elektronischen Publizieren von Texten und Forschungsdaten sowie der digitalen Lehre im Mittelpunkt.
Die Bereitschaft zur Übernahme von Spät- und Samstagsdiensten in der Benutzungsabteilung setzen wir voraus.
Persönliche Qualifikation
Sie verfügen ein abgeschlossenes Hochschulstudium im Bereich Bibliotheks- und Informationsmanagement bzw. Bibliotheks- und Informationswissenschaft (Diplom (FH) / Bachelor of Arts) oder über eine vergleichbare Qualifikation. Ein sehr gutes Verständnis und Interesse für die aktuellen Entwicklungen im Bereich des elektronischen Publizierens von Medien unterschiedlichster Art sowie den sicheren Umgang mit bibliographischen Informationsressourcen (z.B. Web of Science, Scopus) und MS-Office-Anwendungen setzen wir voraus. Gute Englischkenntnisse, eine hohe Serviceorientierung und Kommunikationsfähigkeit runden Ihr Profil ab.
Entgelt
EG 9b, sofern die fachlichen und persönlichen Voraussetzungen erfüllt sind.
Organisationseinheit
Dienstleistungseinheit Bibliothek (BIB)
Eintrittstermin
sofort
Vertragsdauer
unbefristet
Bewerbungsfrist bis
14.08.2020
Fachliche/r Ansprechpartner/in
Fachliche Auskünfte erteilt Ihnen gerne das Sekretariat der KIT-Bibliothek, Tel. 0721 608- 43101.
Bewerbung
Bitte bewerben Sie sich online auf diese Stellenausschreibung Nr. 347/2020.
Im Personalservice (PSE) - Personalbetreuung ist zuständig:
Herr Gehringer
Telefon: +49 721 608-25004
Karlsruher Institut für Technologie (KIT)
Hermann-von-Helmholtz-Platz 1
76344 Eggenstein-Leopoldshafen
Bei entsprechender Eignung werden schwerbehinderte Menschen bevorzugt berücksichtigt.
KIT - Die Forschungsuniversität in der Helmholtz-Gemeinschaft
Das KIT ist seit 2010 als familiengerechte Hochschule zertifiziert.
Website der KIT-Bibliothek demnächst in neuem Layout | 29.07.2020
Auf Beschluss des KIT-Präsidiums wurde der Web-Auftritt des KITs überarbeitet und präsentiert sich jetzt auf der obersten Ebene www.kit.edu in neuen Layout.
Die anderen Organisationseinheiten des KIT werden demnächst ebenfalls in neuer zeitgemäßer Form online gehen. Die KIT-Bibliothek plant die Freischaltung ihrer "neuen" Website im Laufe des heutigen Vormittags.
Sollte es dabei kurzfristig zu Beeinträchtigungen und Störungen kommen, bitten wir das vorab zu entschuldigen.
Ab 27. Juli wieder Lernplätze in Fachbibliothek HsKA
Ab Montag, den 27. Juli stehen 77 Lernplätze in der Fachbibliothek HsKA (FBH) zur Verfügung.
Aufgrund des Infektionsschutzes können diese nur nach vorheriger Reservierung eines Zeitslots genutzt werden. Die Reservierung erfolgt über das Sitzplatzreservierungssystem der KIT-Bibliothek, Voraussetzung ist ein gültiges Bibliothekskonto.
Spielregeln zur Nutzung und Hinweise zur Buchung finden Sie hier.
Die Lernplätze sind nur zu den Öffnungszeiten der Fachbibliothek buchbar. Außerhalb der Öffnungszeiten ist das Arbeiten nach der Corona-Verordnung nicht gestattet.
Lesesaalöffnung in der KIT-Bibliothek ab Montag den 20.07.2020
Die KIT-Bibliothek Süd und Nord öffnet am Montag den 20.07. die Lesesäle für alle, die hier lernen und arbeiten möchten. Montags bis freitags stehen von 9 – 15 Uhr rund 150 Arbeitsplätze in den Lesesälen der KIT-Bibliothek Süd und 12 Arbeitsplätze in der KIT-Bibliothek Nord zur Verfügung.
Aufgrund des Infektionsschutzes können diese nur nach vorheriger Reservierung eines Zeitslots (9 Uhr bis 11.45 Uhr oder 12 bis 14.45 Uhr) genutzt werden. Die Gruppenräume, Cafeteria, Schließfächer und PC-Arbeitsplätze bleiben weiterhin geschlossen. Für die Reservierung eines Arbeitsplatzes benötigen Sie ein gültiges Bibliothekskonto. Spielregeln zur Nutzung und Hinweise zur Buchung finden Sie hier.
Die Ausleihe von Medien in der KIT-Bibliothek Süd erfolgt nach wie vor über die Online-Bestellung und Abholung im Erdgeschoss. Dieser Service ist unabhängig von einer Sitzplatzreservierung.
KITopen-Softwareaktualisierung
Aufgrund von Softwareaktualisierungen steht KITopen am Mittwoch, den 15.07.2020 von 8 bis 10 Uhr nicht zur Verfügung.
Wir bitten um Ihr Verständnis!
Katalog der Biodiversity Heritage Library (BHL) jetzt im KVK
Über den Karlsruher Virtuellen Katalog (KVK) kann jetzt im Katalog der Biodiversity Heritage Library recherchiert werden.
Die Biodiversity Heritage Library arbeitet als ein weltweites Konsortium von über 80 Partnern aus den Bereichen Naturgeschichte, Botanik, Forschung und Nationalbibliotheken, die gemeinsam daran arbeiten, die in ihren Sammlungen enthaltene naturwissenschaftliche Literatur zu digitalisieren und sie als Teil einer globalen "Biodiversitätsgemeinschaft" frei zugänglich zu machen. Sie ist die weltweit größte digitale Open-Access-Bibliothek für Biodiversitäts-Literatur und -Archive. Das BHL-Portal bietet freien Zugang zu Hunderttausenden von Bänden mit über 58 Millionen Seiten aus dem 15. Jahrhundert bis heute. Zusätzlich zu den gemeinfreien Inhalten arbeitet die BHL mit Rechteinhabern zusammen, um die Erlaubnis zu erhalten, urheberrechtlich geschütztes Material unter Creative-Commons-Lizenzen öffentlich zugänglich zu machen.
Mit dem Katalog der Biodiversity Heritage Library können jetzt insgesamt 78 Nachweissysteme über den KVK abgefragt werden. Die KVK-Startseite finden Sie unter https://kvk.bibliothek.kit.edu/. Der Katalog der BHL ist dort im Bereich "Digitale Medien" gelistet. Text teilweise den Abschnitten "About" und "FAQ" der Biodiversity Heritage Library Website entnommen.
Endgültiges Inkrafttreten des DEAL-Vertrags mit Springer Nature
Mit dem 01. Juli 2020 ist der DEAL-Vertrag mit dem Verlag Springer Nature endgültig in Kraft getreten. Er stand bisher unter dem Vorbehalt einer Mindestteilnehmerzahl, die nun erreicht wurde. Inzwischen sind über 350 deutsche Hochschulen und Forschungseinrichtungen dem Vertrag beigetreten, darunter das KIT, die HsKA und die DHBW Baden-Württemberg. Weitere befinden sich im Beitrittsverfahren.
Damit ist es Korrespondenzautoren des KIT möglich, ihre Artikel in den Subskriptionszeitschriften des Verlages ohne weitere Kosten für die Autoren oder ihre Institute als Open-Access-Publikation zu veröffentlichen. Die KIT-Bibliothek empfiehlt dabei die Lizensierung als CC-BY, falls verschiedene Lizenzen zur Auswahl stehen. Die Vereinbarung gilt für Original Papers, Review Papers, Brief Communications, Editorial Notes, Book Reviews, Letters und Reports. Invited Reviews and Brief Communications in Springer Medizin Journals sind nicht abgedeckt.
Den Korrespondenzautoren des KIT steht es frei, das Angebot der Open-Access-Publikation anzunehmen. Weitere Kosten sind für sie damit nicht verbunden, sondern die Finanzierung erfolgt über die Subskriptionszahlung der KIT-Bibliothek aus ihrem Literaturbudget. Umgekehrt ist bei Verzicht auf die Open-Access-Komponente keine Erstattung vorgesehen, so dass die Mittel ungenutzt verfallen.
Am 01. August wird ergänzend eine Regelung für die reinen Open-Access-Zeitschriften ("Gold OA") in Kraft treten, über die die KIT-Bibliothek entsprechend informieren wird.
Kontakt und weiterführende Informationen